At Flex4 OPS one our goals is to make the digital world easier to navigate for printers. Our online print solution enables print companies to take their business online through industry leading web development strategies coupled with proven digital marketing techniques.
We aim to provide advice, guidance and digital marketing best practice in a way that is as jargon-free. However, it's impossible to avoid many common terms so we've put together this handy A-Z guide. It's created with printing companies in mind, but the principles are the same for any website in any industry.
If after reading through there is still something confusing you let us know, we'd be delighted to answer your questions.
Call To Action (CTA)
A call to action is something that encourages a visitor to your website to perform a certain action. This could be to boost your level of new enquiries or interact with some content such as playing a video. Display a noticeable link or quick contact form are common examples of CTAs.
Content Management System (CMS)
A way of easily management your website content without needing to work through technical coding. For example, all OPS websites (including this one) are built using WordPress which allows you to easily add and manage page wording, images and print products.
Content Marketing
To be successful in the online world your company needs to be producing high quality content that you audience wants to engage with.
Great content could take many forms including blogs, videos, guides, images or infographics. This content should be promoted in the right places around the internet and hopefully shared within your industry or by your followers. Content should be entertaining, interesting or useful – if it doesn't meet this criteria then it will offer very little value to your audience.
Customer Relationship Management (CRM)
A CRM system is the name given to an application used to manage interactions with current and future customers. It can track and organise your communications including marketing, sales, customer service and support.
Your CRM will free up your time to work on other areas of your business whilst giving you the reassurance that your existing clients and new prospects are being dealt with in a professional manner.
Conversion Rate Optimisation (CRO)
You'll want as many website visitors as possible to convert into customers or interact with your call to action. Your conversion rate is usually a percentage of your website visitors who convert.
Conversion rate optimisation is the art of working through your website specifically to increase your conversion rate. This could be simple changes to wording or colours or a bigger layout change.
E-Commerce
This is the term given to the act of selling services or products online. Simple one that.
Email Marketing
Companies can use email in a number of ways to communicate with customers, partners or new prospects. In simple terms, any email sent from your company could be considered email marketing.
Other forms could be sending email newsletters to passed customers, enquiry follow ups, or emails to customers who have started by not completed an online order. You could even just be promoting your great content that you produced earlier!
Link Building
Search engines such as Google look at any link from another website to yours as a vote of confidence. The number of good quality links you have pointing at your website helps to build higher search engine rankings.
With links though, it's all about quality rather than quantity. Aggressively building links from the wrong sources will result in doing your website far more harm than good.
Organic Visitors
An organic visitor is someone who has landed on your website from recognised search engines. They have performed a relevant search, found your website in the rankings and clicked to visit.
Paid Search / Pay-Per-Click Advertising (PPC)
Paid search is a term used to describe paid advertising within search engines. For example, when you perform any Google search you'll see both organic and paid for results. Paid for ads usually appear at the top of the page, such as Google Shopping and search advertising – these will have a yellow 'Ad' label.
Advertises usually pay for paid search through a charge for every click. PPC is now a wide-spread form of digital advertising both within search engines and on social media platforms. You only pay for visits to your website which should be highly targeted sales prospects.
Page Load Speed / Site Speed
The time it takes for your website to load is becoming more prominent as Google looks to penalise sites that it judges to be slow. Your website speed can be affected by content, your coding or the hosting server it sits on.
Optimising your website to ensure it works as efficiently as possible should be a key element of your website development plans.
Responsive Web Design
A responsive website is one which automatically reacts to the size of the screen it is being viewed on. With the large increase in users browsing the internet on mobile or tablets, websites built specifically for desktop users won't have strong engagement levels. Plus, Google now recommends it.
Retargeting
Many online advertising mediums (such as email, social media and ppc) allow you to advertise to website visitors who haven't resulted in a conversion – or even if they have.
Ever visited a website and then been followed by banner advertising for that specific brand? In essence, that's you being 're-targeted'.
Search Algorithm
This is a set of criteria that search engines use when building search results. In recent years Google have introduced a wealth of new algorithms that websites must meet. Staying up-to-date with the latest updates is key to strong search engine rankings.
Search Engine Marketing (SEM)
A general term given to any method of advertising your brand on search engines. Either through SEO or paid search.
Search Engine Optimisation (SEO)
SEO is the technique of optimising your website and digital strategy with the specific goal or achieving high rankings in search results. There's a host of techniques and different strategies within SEO and its important you're doing the right things for your business.
Search Engine Results Page (SERP)
When you perform a search on any search engine it'll produce a list of results – this is often referred to as a 'SERP'. You may hear people referring to "the SERPS", this is simply a general term that refers to search engine results.
Local SEO
Much like general SEO but with a goal of ranking highly within your local area. In recent times Google has taken steps to be more useful and rank local businesses ahead of national ones for a host of searches.
For example, people search for 'printing companies' will most likely want to find a local business. The art of Local SEO is about creating a strategy to rank highly within your local results.
Social Media Marketing (SMM)
The technique of using social media platforms such as Facebook and Twitter to market your business to your target audience.
User Experience (UX)
In the digital world a good user experience is one that helps your users achieve their end goal in the most efficient way possible.
There are many elements that contribute to great UX, in regards to websites this could be everything from content to layouts and software.
Free Infographic: Successful Digital Marketing For Printers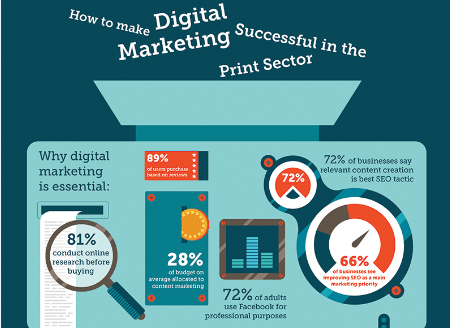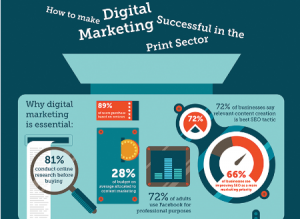 Through our online print solution Flex4 have many years experience of working with print companies to take their business online. Our print eCommerce platform is powerful, flexible and has everything you need to sell print products online. We also know how to market your eCommerce website to ensure it's found and most importantly generates print orders.
We've put together a infographic demonstrating all the ingredients required to form a successful digital marketing strategy in the print sector, you can view it here.
Digital Marketing For Printers
Flex 4 have been providing best-in-class W2P solutions and digital marketing services for print and graphic design businesses since 2004.  We have numerous satisfied customers right across the country.  We are UK-based – all of our team work out of our office in Kendal.  We pride ourselves on our customer service, flexibility, and desire to please – we would love the opportunity to show you what we're capable of.
You can request a free demonstration of our web to print solution or contact us for more information. As always we will be delighted to answer all of your questions and give you all the help that you need.