Search engine optimisation or 'SEO' for short is the name given to the practice of optimising a website in order to improve its search engine rankings. This in turn is designed to increase visitor numbers and ultimately lead to more online sales or customer enquiries.
As with all modern technology, SEO is evolving all the time but there are easy techniques to follow which continue to provide solid foundations.
Claim Your Business on Google & Bing
Being a printing company tends to mean your business has a physical location – resulting in easily being able to take advantage of this one. Search engines are now placing big importance on showing local results for a whole raft of searches that they feel users are wanting to find local businesses for.
Claiming your business on Google & Bing will ensure your print business shows in the local results, gets a marker on Google and Bing Maps and, when fully optimised, is virtually proven as a strong local ranking factor.
To claim your print business on Google visit here, and Bing here.
H1, H2 tags
Wrapping your page headings in <h1> or <h2> is part of a basic seo page structure, with the most important being <h1>. This should be the first heading which  details what the page is about. Ideally the wording should relate to your targeted keywords, and there should be 1 (and only 1) on every page.
The other tags (<h2>, <h3>, <h4> etc) are sub headings and should be used in a top-down hierarchy. Ideally your page would have 2 or 3 <h2> and then sub sections within there would have the further heading tags. There's no requirement to have all headings types on every page, let your content flow naturally and if they're required, put them in.
A little while back Yoast SEO published this article about the use of headings – including a question they posed to Google seo guru, Matt Cutts.
Keyword Rich Page Titles & Meta Descriptions
Your title tag and meta descriptions are among the most important and easy to implement seo tools that can be easily influenced.
These are the pieces of information that show in search engine results, and although their influence on rankings may have reduced, they are certainly still important especially towards click through rates – which certainly is a vital ranking signal.
These should contain your target keywords, but don't 'stuff' them in, keep them readable and user friendly. Plus, every page on your website should have a unique page title and description.
For example, the image below shows the OPS home page as the search result appears on Google. It's easy to read, it's clear what the page is about and contains our keywords:

Alt Tags on Images
Search engine spiders scour the internet, including your website, indexing pages to show them in search results. The use of imagery is important in boosting the appearance of your pages, but although very clever, most search engine bots can't see what's contained with an image – just that one is there.
However, by specifying what the image is using an alt tag you can tell the spiders what the image is about and further improve your content optimisation.
Add Content Updates & Start Blogging
Ultimately it is your content that will ensure you rank for your targeted search terms. This includes content on your main pages, product pages, service pages and also your blog.
Your blog is a perfect place to show your authority in your market, boost your site wide optimisation and target a much greater selection of search terms. By posting regular blog posts you'll be providing fresh content for search engines and building an audience of readers.
Your content should be 100% unique and written for your readers first, and search engines second. By not thinking of your readers you'll write poor quality content, that long-term will do your website more harm than good.
Use Internal Linking
No doubt on your print website you'll have various product pages, perhaps (for example) including one based on your poster printing service. You may also have other pages or articles / blogs on your website about poster printing methods or design techniques. You'll want these pages to rank for certain search terms, but ultimately, they are not all going to rank for every search term available.
To achieve the highest possible ranking for your key page you'll want to make that page the most important, and part of this is introducing sensible internal linking from all the relevant pages.
By channelling your internal links through to one central page, you're telling search engine bots that this is the page you judge most important and want to show for particular search results.
Test Your Page Load Speed
Through 2017 Google has been rolling out the 'mobile first' algorithm update which includes new emphasis on website usability and load speed. Search engine optimisation is constantly moving over to focusing on usability. Google wants to rank useful results for their users, so if your website doesn't load quickly you will begin to be penalised.
To help you along Google have introduced an online tool where you can test your website speed – you'll find it here. Test your website by simply entering your web address, it will then give you a rank on of 100 for both desktop and mobile load speeds.
Optimise For Humans
As briefly mentioned above, your content should be created for your visitors who ultimately are potential customers. Write your content and structure your pages so that real people can easily understand your offering and find the answers to their questions.
You can view all kinds of user metrics for free in Google Analytics, don't make the mistake of thinking that Google themselves are not taking this data in account when judging your website performance.
Final Thought: Be Patient
Introducing the right seo techniques will not boost your rankings overnight, it should be seen as a long-term marketing strategy. Providing you know you're doing the right things will bring success over time.
Plus, SEO is ever evolving – we certainly never stop learning.
If you'd like any advice on any part of your digital marketing you're in the right place.
Free Infographic: Successful Digital Marketing For Printers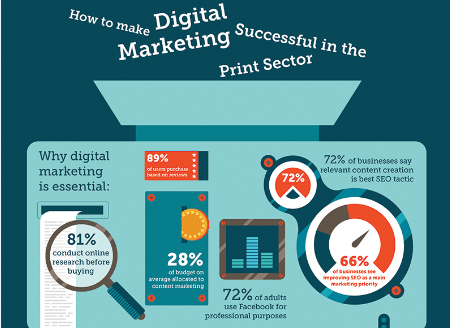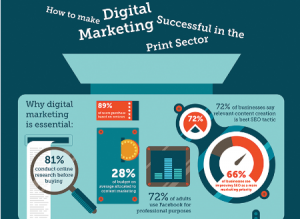 Through our online print solution Flex4 have many years experience of working with print companies to take their business online. Our print eCommerce platform is powerful, flexible and has everything you need to sell print products online. We also know how to market your eCommerce website to ensure it's found and most importantly generates print orders.
We've put together a infographic demonstrating all the ingredients required to form a successful digital marketing strategy in the print sector, you can view it here.
Digital Marketing For Printers
Flex 4 have been providing best-in-class W2P solutions and digital marketing services for print and graphic design businesses since 2004.  We have numerous satisfied customers right across the country.  We are UK-based – all of our team work out of our office in Kendal.  We pride ourselves on our customer service, flexibility, and desire to please – we would love the opportunity to show you what we're capable of.
If you'd like to request a free demonstration of our web to print solution click here, or here for our contact page, or call us any time on 020 7952 8160. As always we will be delighted to answer all of your questions and give you all the help that you need.